A Tropical paradise is exactly what Melissa & Gerardo got when it came to their dream wedding! With Jamaica as the backdrop they were able to relax and celebrate their big day with their loved ones.
DATE: September 8, 2022
LOCATION: Bahia Principe Grand Jamaica (bahia-principe.com) "We knew right away that we wanted a destination wedding considering travel was restricted during covid. Jamaica was on the top of our lists as we had never been. We then did our research on the internet to compare resorts, wedding venues, and their ceremony/reception areas. We were looking for a space that was accommodating for both kids and adults. We fell in love with this resort because of its wedding packages, and the ceremony location (gazebo over the water). We also knew a lot of people who have stayed at the resort in the past and had great experiences." – M&G
PHOTOGRAPHY: TKM Photography (tkmphotography.com) "Our photographers are not only great friends, but they also accompanied and captured our entire journey. They were there on the day of our proposal, for our engagement shoot, and then on our wedding day! Their work is so capturing. Working with TKM is a seamless experience. Having 2 photographers is super helpful, and I would recommend it. Their dynamic duo caught both of our pre-wedding days. They make you feel so comfortable, and make the experience so fun! They are also not afraid to get dirty!! At one point, Kat was fully deep in the water with us with her clothes on! You can also see her rolling around on the floor in many photos. Our favourite part of these photos is that they captured the most memorable moments. You always hear that the wedding day goes by in a flash – and we are so grateful that we can look back at these photos and re-live the entire day all over again. Also, see some parts of it that we didn't that day." – M&G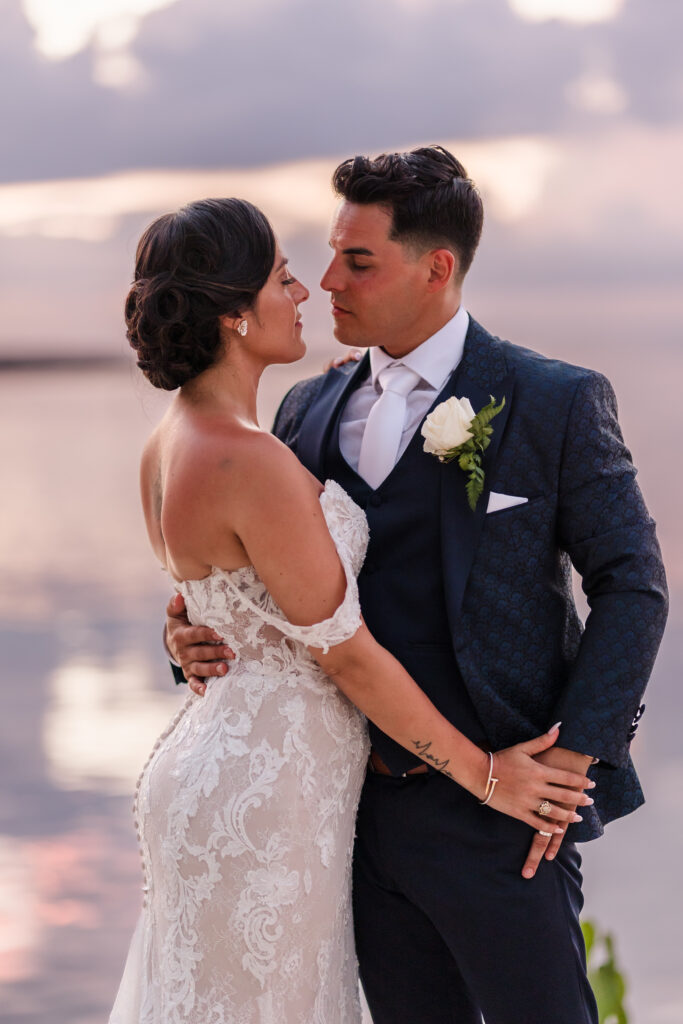 GUEST #: 43
COLOUR PALETTE/THEME: "Champagne, White, & Green. I was looking for very soft colours that would complement the blue water and sand. There didn't need to be any strong colours as the scenery was beautiful itself! The men wore navy blue, and the girls wore champagne satin. All the flowers at the wedding were white roses, with a complement of green. The décor was very clean with white, and a touch of champagne or gold." – M
BRIDE'S ATTIRE: Justin Alexander from Mariana's Bridal Boutique (marianasbridal.com)
BRIDESMAID ATTIRE: Park & Fifth (parkandfifthco.com)
GROOM+GROOMSMEN ATTIRE: 4MenUnited (4menunited.com)
HAIR & MAKEUP: Bahia Principe Grand Spa – Aretha (bahiaprincipe.com)
PLANNER: Bahia Principe Grand Spa – Delecia ([email protected])
TELL US YOUR STORY: "We met in the summer of 2017. We were both living in the same apartment building in Toronto and exchanged words for the first time in the elevator one evening. Our conversation was about Melissa's dog Carlos, who was present at the time. There was an instant attraction between us. But months went by before running into each other again. Fast forward to January 2018, when we met once again in the elevator. As we rode up together in awkward silence, Gerardo attempted to chat with me using the cat food I was carrying in my arms as a conversation starter. We ended up hanging out that night at a mutual friend's place, who also lived in our building. This is where we realized how much we had in common, and finally exchanged numbers. Gerardo contacted me 2 days later to hang out, and our night consisted of a local dive bar called "The Groove", where we played pool (I won), sang karaoke (Gerardo hogged the mic), and enjoyed beers and wings. It was then that we knew there was something special about each other. We remained friends for a very long time, before becoming a couple. We FINALLY became official and took the big step in early 2021, got engaged in December 2021, and 9 months later we were married!" M&G
BIGGEST CHALLENGE: "The biggest challenge for a destination wedding is getting RSVPs. There was a lot of preparation going into this wedding, as we wanted guests to feel welcomed. We put together things like welcome bags for every room, centrepieces, personalized fans, etc. The resort also needed to know the final numbers and names ahead of time, or there were additional charges. Being a destination wedding, some may not agree or wait till the last minute to purchase a ticket for the flight. Which put a lot of stress on our end as we needed to order and create items that took weeks at a time. Everything worked out in the end. The key is to purchase a higher amount than you may need." – M
FAVOURITE MEMORY: "The best memory for both of us was the moment we saw each other for the first time that day. Gerardo did not turn around until I was halfway down the aisle, just so he could take it in. The moment we saw each other, our eyes locked. We instantly felt less anxious and at ease, and knew no matter what happened that day, this was the only thing that mattered. Also, we couldn't get over how beautiful the other one looked!" – M&G
ADVICE: "Our advice to everyone else is that although it is important to listen to the opinions of those who matter to you, it's important to not feel compelled to follow all of them. Especially if it does not line up with your vision. If you start to consider everyone's suggestions, it can at times feel overwhelming, and in the end, may not be what you want. After all, you cannot make everyone happy. So just remember that it is your wedding.- M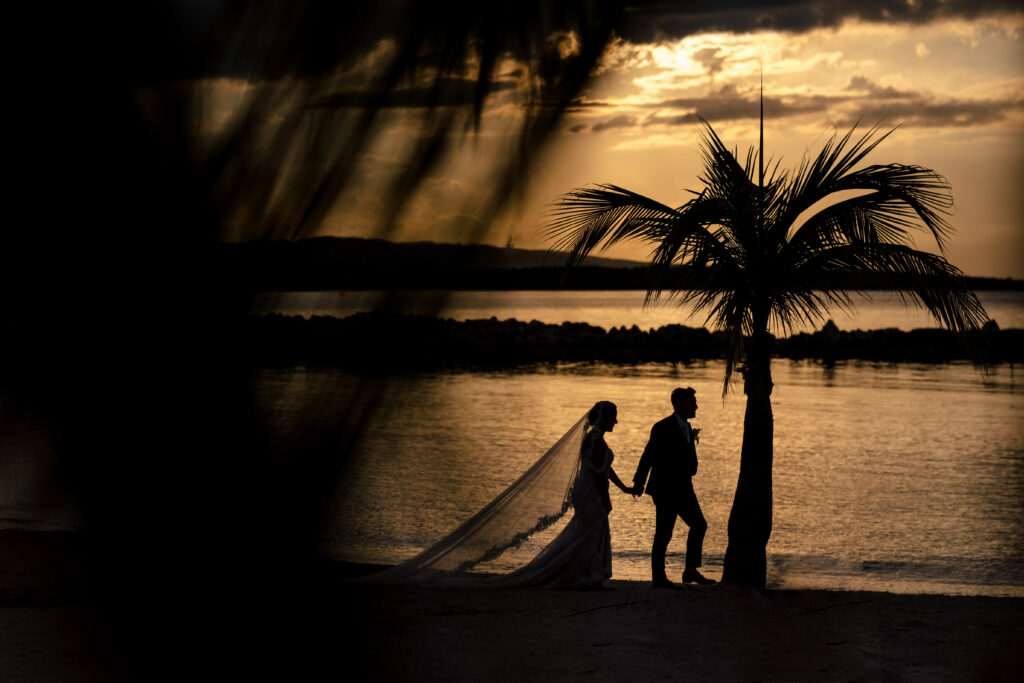 Featured in the Spring/Summer 2023 edition of The Wedding Ring Magazine
FIND OUT MORE ABOUT TKM PHOTOGRAPHY | To speak with TKM Photography about your wedding options, you can reach them using the form below.