Marriage Licence: How much does it cost and where can I get one?
Marriage licence; without one, your wedding is just a really fun party! So if you're planning a wedding in Ontario you're going to need a marriage licence. While all marriage licences are created equal, they do vary in price depending on where you decide to get your licence. (A marriage licence is valid for 90 days from the date it is issued.)
The following is a list of cities and towns from across Southwestern Ontario with their 2021 pricing from lowest to highest.
You can find updated information below on marriage licences impacted by COVID-19 here.
Township of Zorra $90
Township of Central Huron (Clinton, Holmesville, Londesborough) $100
Town of Georgina $100
Huron County (Godrich) $100
Township of Perth South (Sebringville/Kirkton) $100
Strathroy-Caradoc $100
Town of Alymer $110
Township of Blandford & Bleinham (Bright, Drumbo, Plattsville, Princeton, and Washington) $110
Town of Shelburne $110
Town of Ingersoll $110
Township of Southwold (Iona/Talbotville) $110
St. Thomas $110
Orangeville $115
Town of Grand Valley $115
Municipality of Huron East (Seaforth/McKillop/Brussels/Grey/Tuckersmith) $115
County of Brant (Burford/Glen Morris/Mt. Pleasant/Paris/ Scotland/Oakland/St. George) $120
Town of Grimsby $120
South Huron County (Exeter) $120
Municipality of Thames Centre (Thorndale/Dorchester/Harrietsville) $120
Township of North Huron (Wingham/Blyth/Belgrave) $125
Municipality of Kincardine $125
Township of Lucan-Biddulph $125
Town of Midland $125
Niagara Falls $125
Municipality of North Perth (Atwood/Elma/Listowel/Monkton/Wallace) $125
Stratford $125
Town of Wasaga Beach $125
Welland $125
Wellington North Township (Mount Forest/Kenilworth/Arthur) $125
Woodstock $125
New Tecumseth (Alliston/Beeton/Tottenham) $127
Town of Collingwood $130
Wilmot Township (New Hamburg/Baden/St. Agatha) $130
Municipality of Middlesex Centre (Delaware/Komoka/Ilderton) $130
Town of Bradford West Gwillimbury (Bradford/Coulson Hill) $130
Town of East Gwillimbury $137
Brantford $140
Centre Wellington Township (Fergus/Elora) $140
London $140
Woolwich Township (Elmira/St. Jacobs/Maryhill/Winterbourne) $140
Town of Aurora $141
Barrie $145
Toronto $145
Waterloo $149
Brampton $150
Town of Caledon (Caledon/Bolton) $150
Mississauga $150
Guelph $150
Town of Newmarket $150
Kitchener $154
Town of Innisfil $154
Orillia $154
Town of Oakville $155
Haldimand County $157
St. Catherines $158
Town of Richmond Hill $160
Burlington $161
Hamilton (Ancaster/Dundas/Flamborough/Glanbrook/Stoney Creek)$163
Town of Halton Hills $164
Cambridge $165
Town of Whitechurch-Stouffville (Whitechurch/Stouffville/Ballantrae/ Bloomington/Pleasantville/Gormely) $168
Township of King (King City/Hammertown/Kettleby/Schomberg) $177
Town of Milton $191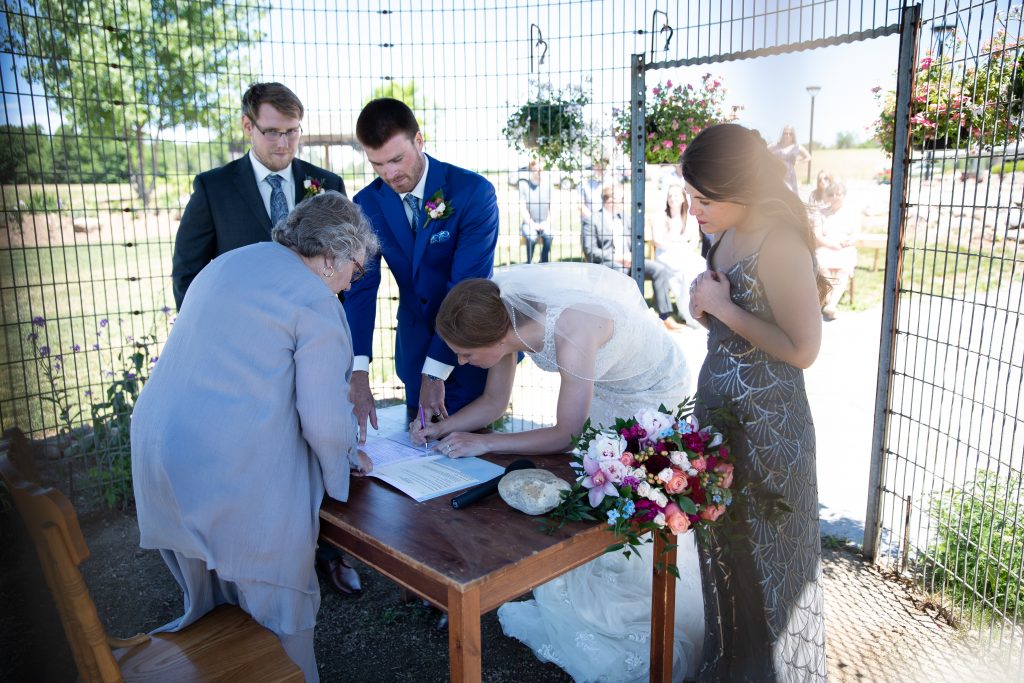 More information on the Paperwork you need to know about before you get married in Ontario
* Information is gathered by the team at The Ring March 2021 via each City/Municipality's website. While we strive to make sure all our research is accurate, fees and restrictions can change at any time. Please confirm prices and details with your City Hall/City Clerk to avoid unwanted surprises.