About
Under the direction of Platters Catering, no event too large for the Grand Guelph Banquet & Event Centre team! "Our Chefs have prepared wonderful menus for countless wedding receptions, baby and bridal showers, funerals, corporate and charity events, and many other creative parties. Any event can be entirely planned by our professional staff, including; décor, rental equipment and more!!"
When you arrive at the Grand Guelph Banquet & Event Centre you will be greeted with friendly and knowledgeable staff for your one on one site tour and information session. We will help you detail your entire wedding reception from the moment you arrive to enjoy your first meal together as husband and wife until you leave us to enjoy your happily ever after as life partners. We make sure every candle is lit and every chair is in place.
You May Consider These Items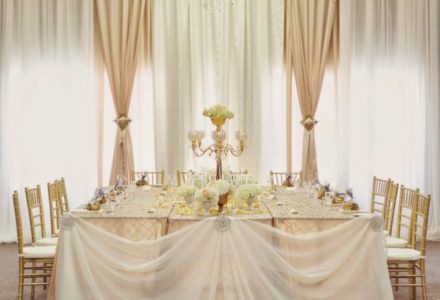 1128 Rife Road Cambridge ON N1R 5S3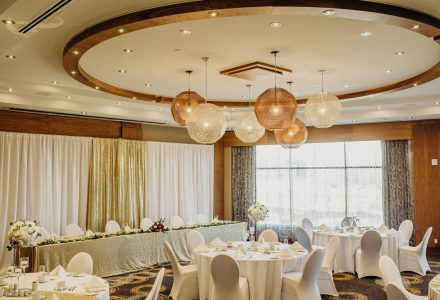 110 Erb St W, Waterloo, ON N2L 0C6
Products & Services
With 12,000 square feet of exquisite venue space, the Grand Guelph Banquet & Event Centre easily adjusts to fit both your vision and your size. The grand ballroom area can host up to 800 guests for a dinner and dance.
Accommodating Weddings | Easy to find from anywhere in the city with lots of parking, the Grand Guelph Banquet & Event Centre just makes life easier for your guests. The venue is fully wheel-chair accessible and easy to navigate. The stunning modern decor allows brides and grooms the freedom of decorating a little or decorating a lot.
Reception Options | At the Grand Guelph Banquet & Event Centre you can host an event from 50 to 1000 people depending on the style of event you're interested in. The 10,000 square foot ballroom divides into smaller spaces each fully equipped with a beverage bar, large dance floor and state of the art lighting.
Photo Opportunities | The building, with column architecture is nestled among a wooded lot which allows for beautiful photos.
Ceremony Option | If you are looking for an all in one location for your wedding, the Grand Guelph Banquet & Event Centre can help. They are happy to host your ceremony in one of their private salons and even in their grand foyer if you prefer. Ceremonies in a private salon can be set for up to 250 guests while a ceremony in the grand foyer accommodates up to 175 guests.
Menus | The Grand Guelph Banquet & Event Centre offers an array of cocktail appetizers followed by a selection of 3 and 4 course served entrees allowing each of your guests to choose the entrée that best suits them. Our late night pizza & poutine station is a big hit among all our couples!
Bar Options | The Grand Guelph Banquet & Event Centre includes 4 hours of OPEN BAR in their All Inclusive Wedding Package! Other Bar options such as "cash and consumption" is available. Champagne toasts and signature drinks are also popular beverage choices. "There are really few limits to our Bar options".
Packages & Pricing
Wedding Bookings should be booked 1 year in advance and require a signed contract along with a minimum non-refundable deposit of $2500. Expect to pay 15% gratuities and HST on top of your quoted price as is standard in the industry.
Details, Details, Details
All-Inclusive package with 4 hours of open par is $75 per person, without bar is $50 per person (plus taxes and gratuity).
The Grand Guelph knows that every wedding is unique and special. Their Event Specialists are happy to fully customize every aspect of your special day.
Once you have signed your wedding contract and put your deposit down to confirm your event you can relax until approximately 2 months prior to your wedding at which time you will meet to wrap up all of the details such as set up, meal selection, third party vendors etc.
2 weeks before your wedding you will confirm your guest count and any special meal requests.
The balance of your invoice is due the day before your event.
Vendor Profile : The Grand Guelph
Tucked away in a secluded corner of Guelph near the corner of Hwy 6 and Woodlawn Road, the Grand Guelph Banquet & Event Centre is Guelph's premier event facility, offering over 12,000 square feet of sophisticated, adaptable event space for weddings, corporate and social occasions, Accommodating 50 – 1000 guests.
As you enter the front doors you enjoy the ambiance of their 1500 sq. ft. bright and spacious grand foyer furnished with leather couches, gorgeous chandeliers, relaxing jazz music, a warm fireplace, a stunning waterfall and 2 private bridal rooms.
General Questions & Answers
Video
Sorry, No video added by vendor
Couple Reviews
Please login to add your review
© 2023 The Wedding Ring All rights reserved.