Congratulations on your engagement! You now face the unique challenge of how to plan your wedding during coronavirus pandemic.
If you're just starting to dive into planning, it's natural to have a million "what if" questions about the future. While all of the uncertainty, we hope that in light of current events, this won't take away from the excitement that comes with wedding planning.
First of all – don't panic
The last thing you need is more stress. While it's important to keep up-to-date with the current information regarding Covid-19, planning your dream wedding could be a welcome distraction.
Here are a few tips to help you get started in plan your dream wedding in the wake of coronavirus.
STEP 1: KNOW YOUR PRIORITIES
This is important! You have to determine your wedding priorities. It may be the most important thing you do together as a couple before the wedding. Knowing your wedding priorities will allow you to focus on what is most important to the two of you. Not anyone else. These priorities will help to make your wedding unique. They also make it easier to stay on track and not be swayed by family, friends or vendors.
STEP 2: DETERMINE YOUR WEDDING BUDGET
You should never book venues and vendors before having a budget. With all the wedding excitement it is the quickest way to overspend. Take a look at The Wedding Ring's Budget template to help you figure out what your ideal budget is. Talk to those who may be helping with the wedding financially. Have them be specific about what they are contributing and when. Once you have your priorities and budget in place it will be much easier to decide what items and vendors you want to splurge on and where you want to cut back. Knowing these two things will go a long way in making your wedding unique.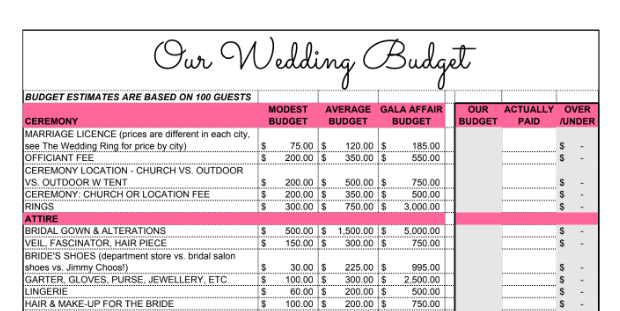 STEP 3: GET INSPIRED
We call this wed-spiration! Before you start drooling over other people's weddings talk about what colors, styles, foods, and places you two like. Think about things you enjoy doing together and the family traditions you love. Take a look at the 'Inspiration & Planning' drop-down menu for design palettes, galleries, real wedding stories, planning tools, etc to start considering colour schemes, décor ideas, where to start planning and more.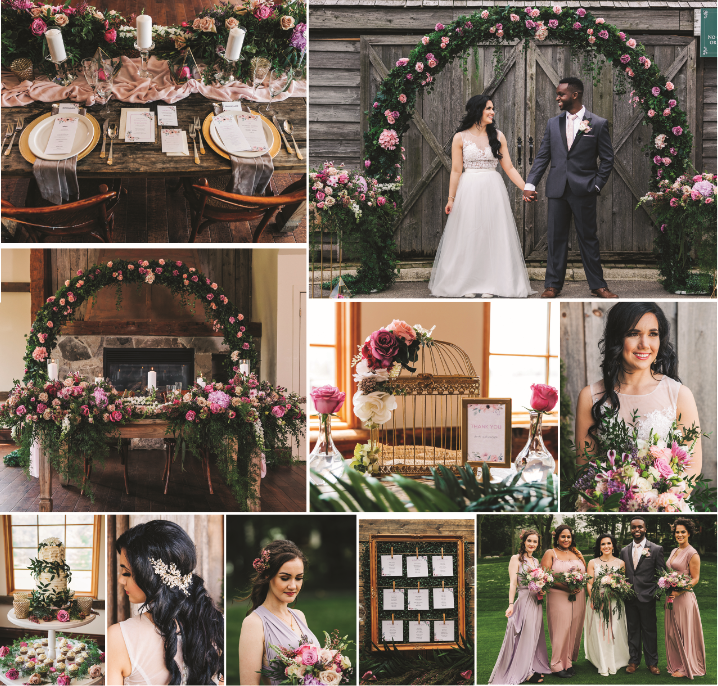 STEP 4: CREATE A WEDDING PLANNING HUB
It may be on your computer or phone but one of our favorites is a wedding planning binder. Wedding planning binders are for couples who love REAL-LIFE tangible paper, pens, and pencils. Bring on the checklists, timelines, and step-by-step.
STEP 5: GUESTLIST AND WEDDING PARTY
Start an initial guest list. You don't want to book a venue that's too small. Some couples would rather have a more intimate wedding. Then, splurge on other things like food, alcohol or décor. Whereas some couples would rather invite lots of people and have as many as possible share in their new life together. This may mean cutting back in other areas.
You'll also want to use this time to choose the people who will stand beside you on your big day—your wedding party. So go ahead and select your bridesmaids, groomsmen, groomsladies or bridesmen and ask them to take on this important role.
STEP 6: NARROW DOWN THE DATES
You won't officially "set a date" until you book your venue but we recommend choosing a few potential wedding dates before you start looking at venues. First, think about the season in which you'd like to wed. Is a Saturday night wedding is a must (convenient, but potentially more expensive and competitive) or are you open to a wedding on a different (perhaps less in-demand) day? Then, take a look at the calendar, taking into account work schedules, holidays, family conflicts, etc., and narrow things down to a few choice dates. Having some potential wedding dates in mind will be very helpful during the venue selection process.
STEP 7: CHOOSE A VENUE WHILE PLANNING YOUR WEDDING DURING CORONAVIRUS
Now that you have a budget, an estimated guest count, and a few potential wedding dates in mind, you have all the information you need to book a wedding venue—one of the most important parts of our how to plan a wedding guide. While in-person tours may need to wait a bit longer you can Read online reviews of wedding venues on TheWeddingRing.ca, and work with your partner to narrow down or even find your dream wedding location. Once you've thoroughly read the venue's contract and signed on the dotted line, you've officially set a date for your wedding—and the real fun begins!
STEP 8: START YOUR REGISTRY
Pretty much immediately after you announce your engagement, your loved ones will ask: "Where are you registered?" When thinking about how to plan your wedding step by step, it's a good idea to create your wedding registry relatively early on in the process. Your family members and friends may want to purchase engagement gifts—you can always make changes and additions to your registry later on.
STEP 9: SEND SAVE-THE-DATES
It's time to create your final wedding guest list. Remember that if your parents are contributing financially to your big day, they'll get a say in who's invited. It's time for your guests to mark their calendars! Save-the-dates should be sent as far in advance as possible to ensure that your loved ones can plan accordingly.
STEP 10: CREATE A WEDDING WEBSITE (Optional)
Some couples find that setting up a wedding website is the easiest way to do keep your guests in the loop. Make sure to include all of the important information about your big day on your website—date, location, travel information, room block details, and more.
Plan your wedding during Coronavirus
Keep your priorities, budget, and style in mind as you start researching your vendor and venue options. ​Wedding Planning can be fun and crazy all at the same time. Having a plan you can make your wedding day run smoothly, leaving you plenty of time to fall in love with the details!