EXPERT TIP BY: Jeff Alpaugh, Jeff Alpaugh Custom (♥) (jeffalpaugh.com) 
An engagement can be an exciting but often busy time in the life of a couple. Many couples may begin their wedding planning journey by discussing what their individual and collective visions are for their big day. Other couples may already have a clear vision in mind and may begin to shape this vision into a reality for their wedding together. Of course, the big decisions are often: The Date, The Venue(s), The Guest List, and The Budget. Once those are set or in progress, couples start to think of the finer details such as the bridal party, photographers, food, and what they will wear.
For traditional bridal dresses, most brides are advised to order a dress 8-12 months in advance unless they choose an off-the-rack option. Shopping for a dress is a staple event in traditional, North American wedding culture. However, when picking a tux, suit, or less stereotypical outfit, the rules seem a lot more fluid and less widely known. For many weddings, the tuxes or suit decisions are made at the last moment in lieu of planning bigger, and more exciting portions of the wedding.
Photos and videos offer some of the lasting memories of your special day. Your suit or tux selection will be featured prominently, not just on the day of your wedding, but also on your "thank you" cards, and social media profiles, and will hang in your house for years to come.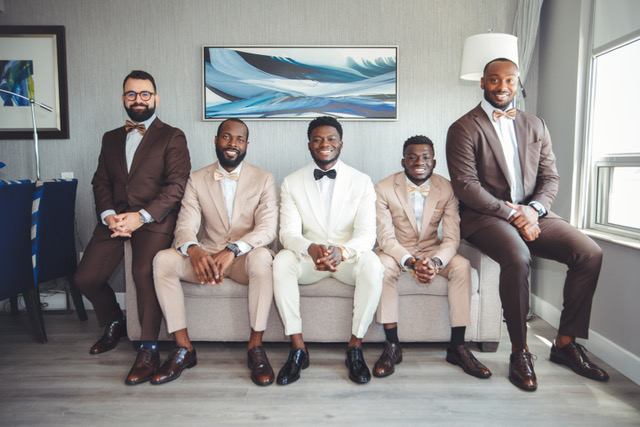 Keeping this in mind, we would suggest that planning for your tux or suit look and the look of your attendants, outside of the wedding dress and bridesmaid dresses, should start roughly 6 months in advance or earlier. This means, if you are getting married in July – September, you should probably start thinking about your suits/tuxes in February – April. This will allow time for research on where you can find the outfit you have in mind, the styling of your suit/tux, and the colour palette that will complement the rest of the bridal party's outfit. It also allows ample time for sizing and any final alterations without stress.
In this article, we will detail the top 3 ways to ensure you achieve your wedding vision while keeping everyone in the wedding party happy and comfortable.
1. ATTEND A FIRST CONSULTATION AS A COUPLE
The number one, biggest error we see when someone comes in to buy a wedding suit is that often the person in the initial consultation does not understand the look or aesthetic of the day, or they have unclear instructions. We often hear, 'My fiancée purchased a dress, I think she *maybe* said it wasn't totally white and she wants me to wear a tuxedo or a black suit,' or, "I am supposed to buy a navy suit". It's easy to see how that train can fall off the tracks quickly.
We always encourage the couple to come together for an initial consultation where they can talk to us about the vision that they have for their day and show us photos of flowers, photography, venues, colour palette, etc. We then use all this information to help ensure everyone feels confident that the outfit(s) are in keeping with the vision for the day.
2. GET THE PEOPLE EXCITED!
Once you have had your initial consultation, it is time for everyone to get excited about the suit you will design. When people are excited about the clothing that they are wearing, that translates into excitement for the day, and this excitement carries through to the photos and the dance floor.
Often in the initial consultation, we will encourage the couple to pick a detail or two that each person can customize and make their outfit their own while still maintaining the overall uniform look of the wedding. Some suggestions are a completely customized memory liner (made from your own photos), a special monogram, or a little something dangerous on the back of the dress shirt or under the cuff, or inside the collar.
3. MAKE GETTING THE SUITS AN EVENT TO REMEMBER
Just like choosing the perfect dress, getting fitted for a suit can be a great night out for the wedding party. After the initial consultation, we encourage the wedding party to come as a group, get measured, shoot some pool, and make an afternoon or evening of it. Again, getting excited and engaged in the process will lead to a better atmosphere, a party, and overall cohesiveness of the big day. If your wedding party is geographically dispersed, we suggest having the out-of-town people join us virtually. Many times, a wedding party may consist of the most important people from different parts of your life. The wedding party fitting is a great chance for all these people to get to know each other prior to the rehearsal dinner/big day in a low-stress, relaxed environment.
ABOUT JEFF ALPAUGH CUSTOM: Uptown Waterloo's trusted source for custom clothing and alterations, specializing in wedding suits, tuxedos, and shirts, with 10 years of industry experience outfitting men and women.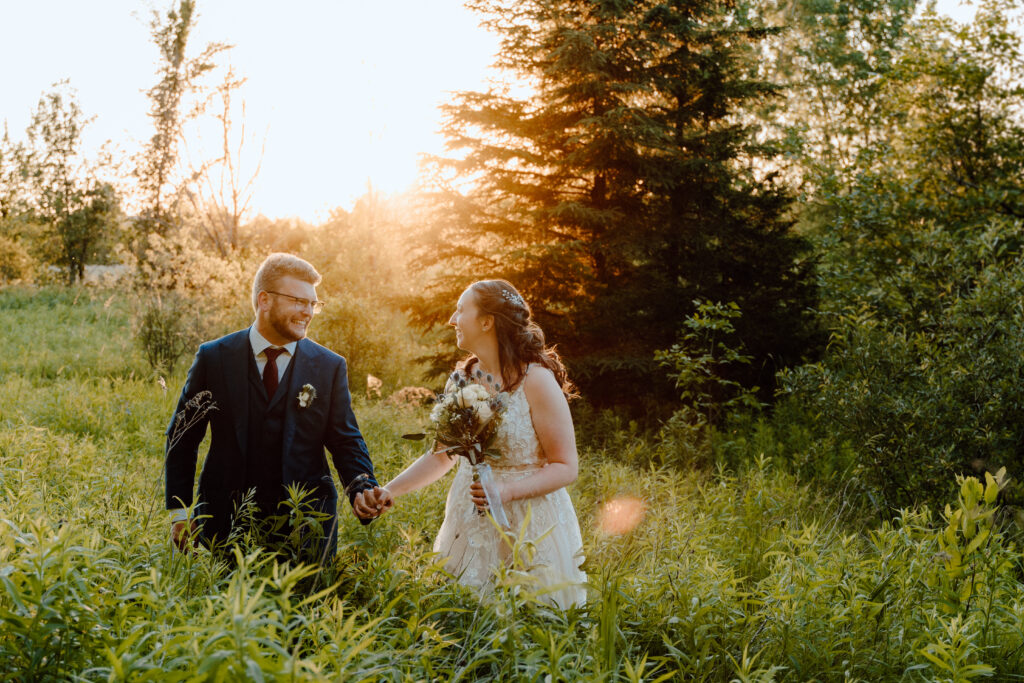 Featured in the Spring/Summer 2023 edition of The Wedding Ring Magazine
FIND OUT MORE ABOUT JEFF ALPAUGH CUSTOM | To speak with Jeff Alpaugh Custom about your wedding options, you can reach them using the form below.