Delta Guelph offers 11 event spaces, 13,000+ square feet, up to 500 guests, local cuisine & more | All photos provided by Delta Guelph, top photo by Gary Evans Photography
Delta Guelph- Guelph's only four-star, full-service hotel and conference centre – knows how to produce weddings worth falling in love with. Delta Guelph menus feature fresh, local food prepared by their talented culinary team. 11 different event spaces can accommodate up to 350 guests in modern and traditional design styles. They offer ceremony and reception options, indoors and out with affordable all-inclusive packages. For all these reasons and more, Delta Guelph has earned its top placement on Guelph couples' must-see lists. Let us explain…
Taking care of details so that you don't have to
Delta Guelph first came about through a partnership with the University of Guelph. Since it's opening in 2008, the hotel has become a hot spot venue for weddings. It is Guelph's only four-star, full-service hotel, and with the rising demand for weddings on Fridays, long weekends, and New Year's Eve, its popularity within the high-end hotel and wedding market continues to grow.
For the wedding professionals at Delta Guelph Hotel and Conference Centre, it's all about taking care of your every wedding detail- so that you don't have to. Their team works to ensure that their brides and grooms get exactly what they've been dreaming of even if that means catering to the most challenging requests…like having a monkey as part of your wedding party (yes, it has happened!).
For Maddie Puchalski, the Senior Event Manager at Delta Guelph, this is all part of a day's work. "Every request is different and as a team, we always find a way to make it happen."
Talented in all the right areas
Maddie describes the entire team at Delta Guelph as, "talented in all the right areas"— from the kitchen and catering staff to their service teams. Their philosophy? "We take care of the details so that you don't have to."
For example, Maddie told The Ring that Chef Josh Wright creates wedding menus that are, "outside of the normal catered experience." Chef Josh and his team have experience working at Delta hotels across Canada and have developed an enviable reputation for creating incredible menus drawing from their experience across the country. Chef Josh uses fresh, local ingredients to prepare meals, and stays on top of current food and presentation trends.
Overnight accommodations
One of our favourite things about Delta Guelph is that it gives your out-of-town guests the option to stay overnight or, for the entire weekend. With luxurious accommodations, guests can look forward to your rehearsal dinner, morning-after breakfast, and a range of room options, including eight large Luxury suites. This makes for a fun, stress-free wedding weekend.
The Royal City Ballroom
While Delta Guelph offers several options for ceremony and reception locations, Maddie says their elegant Royal City Ballroom is a favourite reception location for brides. It can accommodate 350 seated guests or up to 500 with a cocktail style reception.
"When couples set foot inside the Royal City Ballroom, they usually decide it is the place for them."
The ballroom, equipped with two large patios, allows you and your guests to enjoy the night sky and grab some fresh air.
If you're looking for something a bit more intimate, Delta Guelph has you covered there too. They can host anywhere from forty to three-hundred fifty guests in one of several spaces at the venue.
Maddie told The Ring that brides and grooms also love the outdoor ceremony space. "Couples are enjoying the outdoor ceremony experience, coupled with the safety of an indoor reception."
Venues like the University of Guelph's Arboretum and spots along the Speed and Eramosa River are local favourites and if the weather turns, the hotel can host the ceremony on-site."
$ Pricing a Delta Guelph wedding
Delta Guelph keeps it simple for their couples, with wedding package options as well as build your own packages. Maddie describes how brides love the "all-in" packages (which start at $106+hst per person), knowing that everything for their event is wrapped into a simple per-person price. Delta Guelph can customize a package to suit your vision and budget.
The average bride at Delta spends $5000+ depending on numerous factors.
How to book, what to expect
To get started, email or call the team at Delta Guelph. Make an appointment before visiting so that they can dedicate their time to you and any questions you might have. You'll get a chance to take a look at the space and chat about your vision for your wedding. From there, you'll go over the details—scheduling a time for your menu tasting, discussing your deposits and you'll have a chance to go over your agreement.
Throughout the entire planning process, the team at Delta Guelph is with their brides, every step of the way. As their team puts it, "All you have to do is say "I do". We'll take care of the rest."
The week of your wedding, you will have the option to meet with the operations team to do a wedding run–through and go over any last-minute details so that everything is set for your big day.
After your wedding, the team at Delta Guelph likes to follow up to make sure that your wedding was absolutely perfect.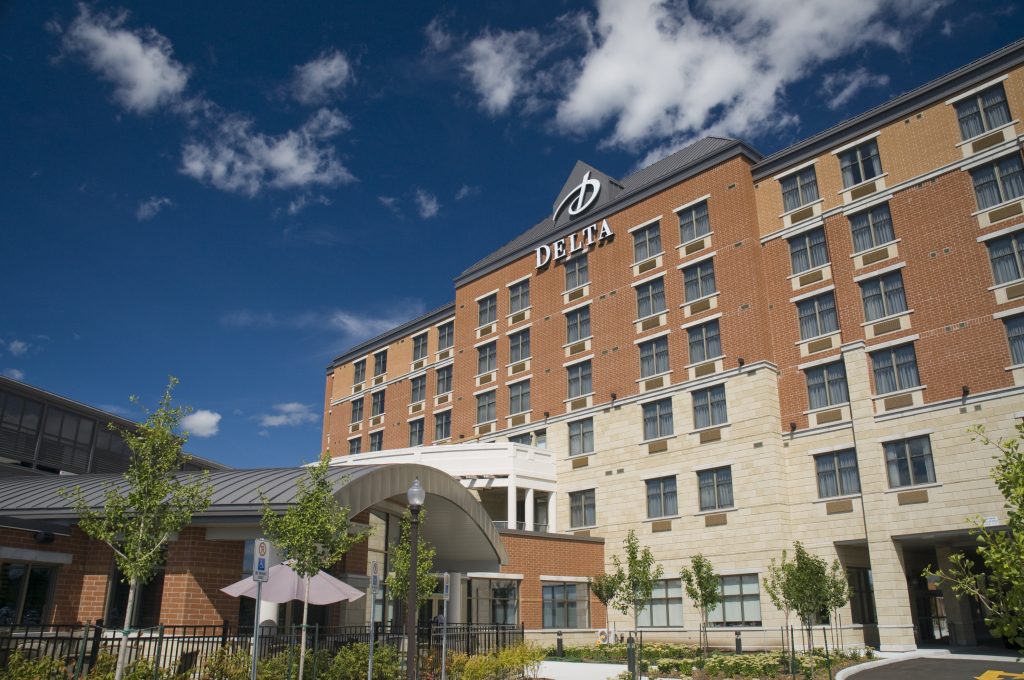 Contacting Delta Guelph Hotel & Conference Centre
To learn more about hosting a wedding at Delta Guelph Hotel & Conference Centre, contact the team directly by email using the form below. ? You can also visit Delta Guelph Hotel & Conference Centre online at www.marriott.com/ykfdg
Rate & review Delta Guelph Hotel & Conference Centre
…
Read what other couples & experts have said…