After 50+ years, Bingemans still well known for wedding spaces that suit nearly every wedding size, style & budget
Photo, above: The Embassy Room at Bingemans by davidandkara.com Bingemans has got to be one of the most recognized names in Kitchener-Waterloo's wedding and events industry. Bingemans easily and repeatedly makes it onto the list of reception halls for most local brides. Also, an exclusive and preferred caterer at many other wedding locations throughout the region.
So whether you've been dreaming of an outdoor reception beneath a large gazebo, a multitude of photoshoot options on-site, or an elegant ballroom that will fit your 50 guests or 1000+ guests. Bingemans has the flexibility, experience, and space options – all in one location – to suit just about any bride. Let us explain…
Your Personal Wedding Specialist
Bingemans Wedding Specialists helps brides plan their perfect wedding day! Whether the venue of choice is Bingemans, Steckle Heritage Farm, Waterloo Region Museum, Three Bridges, or a venue of your choice. It's their job to help you plan throughout the many months leading up to your wedding.
Bingemans popularity with weddings is thanks to the entire team at Bingemans for offering brides the highest level of professionalism and years of experience. It's the whole team that attracts couples to Bingemans.
Lori from Decorating Dreams often works with the Bingemans team and told The Ring, "The staff is extremely organized, pleasant and exceptionally accommodating. The event spaces are always set up on time and ready for me to create the bride's vision! Always a wonderful team to work alongside."
From the Ballroom to the Berkley…
At Bingemans, there is no shortage of possibilities when planning your special day. Which is a big reason why these event specialists are a favourite with brides. You can choose to exchange vows amidst the lush greenery of the Pavilion or follow your indoor ceremony, with photos throughout the nearby forested areas.
Bingemans offers an all-in-one location. With six banquet rooms, each room has a different capacity and décor opportunities, giving you the option from a country atmosphere to a grand gala ballroom. Pretty much anything you can dream up is possible!
Amenities and Features at Bingemans
The Ballroom | The Ballroom's atmosphere is grand; ideal for any event. The room sparkles with crystal chandeliers for impeccable elegance and tradition. Guests get to pass through the newly redecorated foyer for their 'grand entrance' and cocktail hour. The Ballroom can be altered in size with moveable walls, for more options, taking the room to a more intimate setting.
Capacity: 50 to 700
Size: 15,000 sq. feet & 14 foot ceilings
Rental fee: $900 to $2000
Embassy Room | The elegant Embassy Room is beautifully decorated. Crystal chandeliers and two marble fireplaces are just a few of the room's features. The room's stunning features have also been praised by many executives and media representatives who have held events here. It is 7,200 square feet with ample seating. . The Pavilion is situated a few steps away for your ceremony, walking alongside their private patio for your cocktail hour! Hold your event in a room they will talk about for a long time to come!
Capacity: 300
Size: 7200 sq. feet
Rental Fee: $1500
Berkley Room | Ideal for every type or style of wedding; your guests will be surrounded by elegance. The initial impression is stunning; with sparkling chandeliers reflecting warm light off the signature wood tiling. The Berkley Room beautifully combines sophistication with a welcoming ambiance, offering you the flexibility of a large space, and the intimacy of a small room. Guests also have access to the stone courtyard with a tranquil fountain as the focal point.
Capacity: up to 100 people
Rental Fee: $650
NEW FOR 2021 – The Embassy Marquee | Bingemans can host your 100-guest reception in their amazing 60 x 100 hocker style tent. Bingemans can also provide safe food & beverage services and social distancing tables to follow current Covid-19 restrictions & guidelines!
Capacity: 100
Size: 6000 sq. feet
Rental Fee: $2000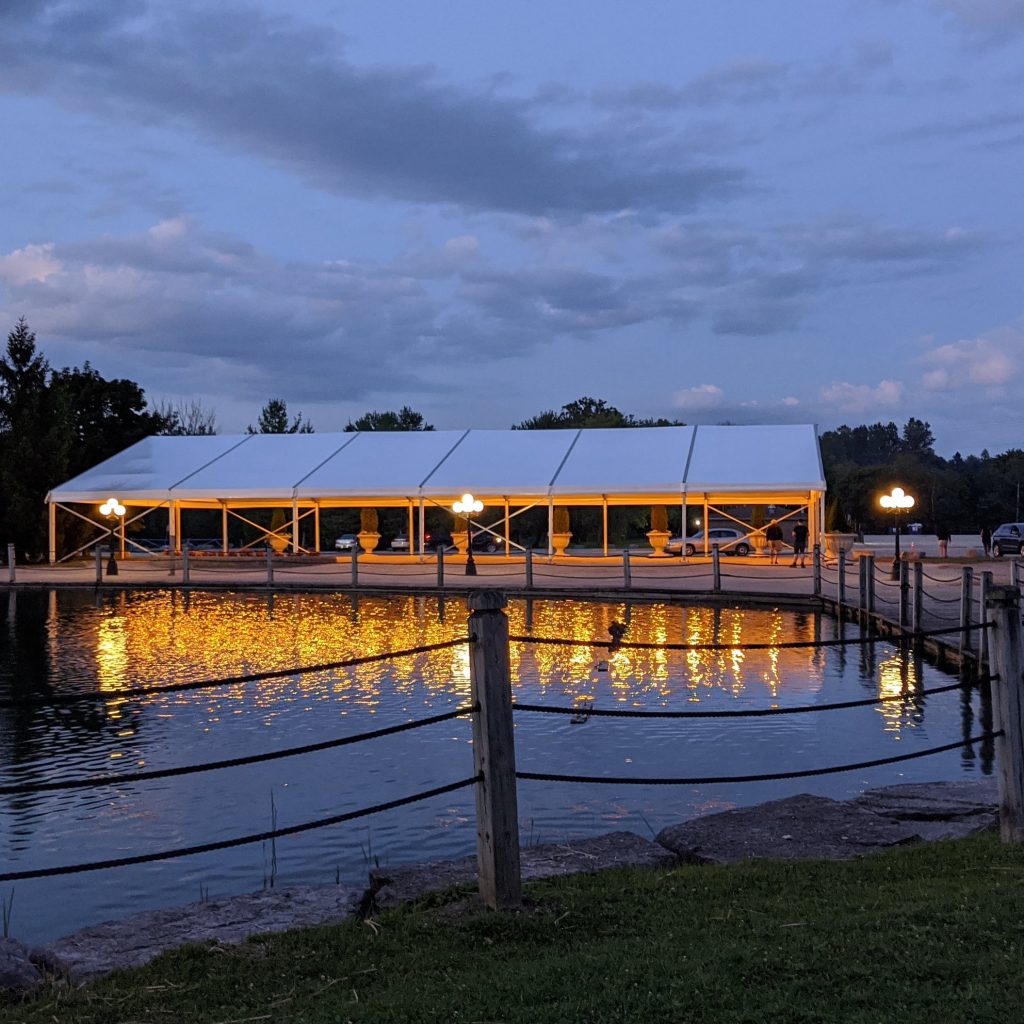 Bingemans has been in business for 75 years – with over 50 years of catering weddings. So when it comes to wedding menus, it'd be hard to find a request or situation they haven't undertaken in the past. From gluten-free, vegan, vegetarian, etc. Bingemans can present dinner service to each guest.
Whether Bingemans caters on-site or off-site, traditional bride or outside the box, big-budget or budget-conscious, big wedding or intimate wedding, there's something for everyone.
Bingemans is proud to say they can cater at many offsite locations like Steckle Heritage Farm, Three Bridges Event Centre, and Waterloo Region Museum. Bingemans has also catered THEMUSEUM in downtown Kitchener, Victoria Park Pavilion, and many other off-site locations!
Bingemans wants to help take the stress out of your wedding day. Let us do all the work by choosing one of our popular all-inclusive wedding packages. Bingemans is pleased to offer their wedding specialists that can help make planning a wedding less stressful and personable. Bingemans also supplies their couples with trusted local vendors.
Allie Reis got married at Bingemans and says, "Thank you so much for everything! The food was delicious and all your help to make our special day perfect during Covid-19 was amazing. My husband and I both really appreciated it."
To investigate for yourself
To talk about all things weddings, contact a Bingemans Wedding Specialist using the form below 🙂 You can also check out the Bingemans website at www.bingemans.com. They're also featured here and here.